WARRANTY INFORMATION
All R.C. Allen instruments have a one year warranty from date of manufacture. This covers any malfunction of the instrument due to any defects in manufacture under normal use.
Your instrument will last longer if you use it often. This is due to the nature of the lubricant in the bearings. When the instruments are stationary for long periods of time, the lubricant may pool and seep-out of the bearing housing. Frequent use keeps the lubricant evenly distributed throughout the bearing and increases the life of the instrument. Defective bearings cannot be re-lubricated and require a replacement.
We highly recommend that you run your instruments for at least 5 minutes once a month.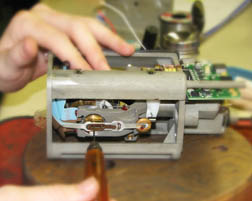 Kelly Manufacturing Company
is an FAA approved repair

station. We do all warranty repair and service on R.C. Allen instruments only.
Our repair technicians are dedicated to keeping you flying safely
with the best service possible.
Why trust your repairs to anyone but the original manufacturers?
For more information, contact us at:
Phone: (316)265-6868
Email:
service@kellymfg.com
SERVICE WARRANTY


Service to instruments out of warranty will receive
the following Service Warranties:

FUNCTIONAL TEST ONLY: 3 month warranty.
REPAIR: 6 month warranty.
OVERHAUL: 1 year warranty.

Prices vary with type of repair so please call first.
FAA FORM 8130 INFORMATION
If you require an 8130-3 Airworthiness Approval Tag, you must request it at the time of purchase.
We cannot, by law, issue Certificates once an instrument has left our quality control system.
All serviced TSO'd instruments receive an 8130 "Return to Service" Certificate. The DMIR staff at Kelly Manufacturing Company will be happy to answer any questions you may have.
SEND REPAIR ITEMS TO:



Kelly Manufacturing Company
Service Department
555 S. Topeka
Wichita, KS. 67202
U.S.A.
Ship items in original containers if possible.
Please include the following information sheet with your order.
DOWNLOAD:
INFORMATION SHEET

-Cap all air vents on vacuum instruments.
-Do not cage attitude indicators.
-Include at least 2 inches of packing on all sides.
-Place instruments face up in box if possible.